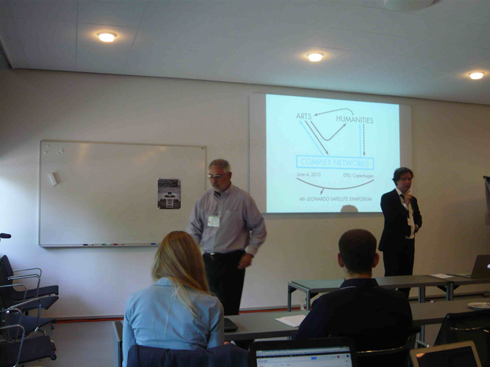 Roger Malina and Max Schich introducing the Arts, Humanities and Complex Networks event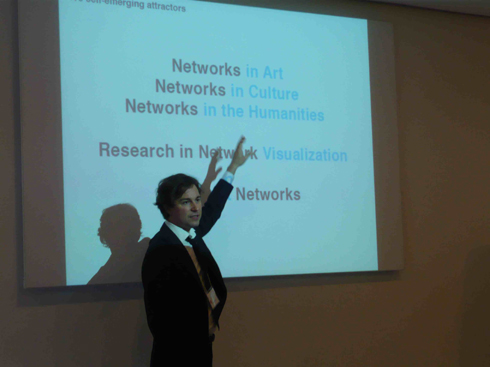 Max Schich presenting the AHCN event and the e-Book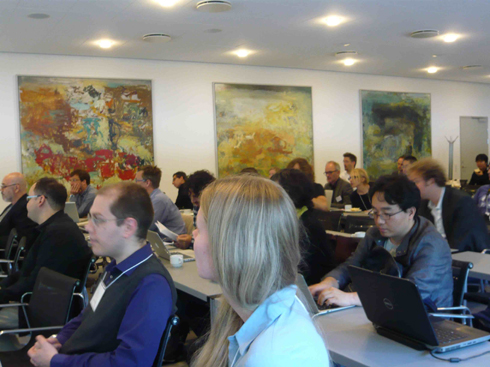 A fully focused audience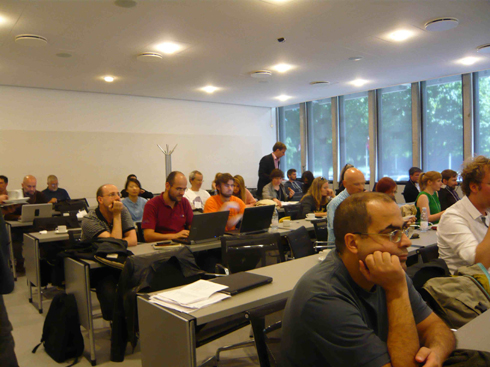 A fully focused audience
---
8:30 Registration & Breakfast
9:00 Roger Malina Opening Remarks
9:10 Maximilian Schich Introduction
9:30 Keynote Denny Vrandecic: Wikidata: Where Arts and Humanities Meet Graphs
10:10 Coffee break
10:40 Doron Goldfarb, M. Arends, J. Froschauer, M. Weingartner, D. Merkl: Collectivizing the Barr model
11:00 Emoke-Agnes Horvat, A. Spitz: A Diverse Menu of Cinematic Delicacies that do not Expire
11:20 Marnix van Berchum: Linked Sources. A Network Approach to the Repertory of Sixteenth-Century Polyphony
11:40 Bruno Mesz, J. P. Pinasco, P. Amster, P. R. Zivic: Stylistic Evolution in Networks: Delayed Dynamics in Style Emergence
12:00 Lunch (on your own)
13:30 Keynote Scot Gresham-Lancaster Computer Network Music
14:10 Keynote Paolo Ciuccarelli Mind the Graph! A Discussion on the Design of the Network
14:50 Coffee break
15:20 Santiago Ortiz: Narratives in Network Visualization
15:40 Ruth Ahnert: Protestant Letter Networks in the Reign of Mary I
16:00 Thomas Lombardi The Communion of the Saints: Networks and the Study of Iconography.
16:20 Francois-Joseph Lapointe Hybrids are Hubs: Transdisciplinarity, the Two Cultures and the Special Status of Artscientists
16:40 Discussion
17:00 End
19:00 The Data Body on the Dissection Table. Arts, Humanities, Medicine and Complex Network, Medical Museion, Copenhagen

Full details and infos
Symposium Arts, Humanities and Complex Networks 2013
http://artshumanities.netsci2013.net
Arts, Humanities and Complex Networks e-Book and web companion
http://www.amazon.com/dp/B007S0UA9Q
http://ahcncompanion.info
---
Maximilian Schich , Associate Professor, ATEC, The University of Texas at Dallas, U.S.
Roger Malina, Executive Editor at Leonardo Publications, France/U.S.
Isabel Meirelles, Associate Professor, Dept. of Art + Design, Northeastern University, U.S.
Annick Bureaud, Leonardo/OLATS for the Studiolab consortium




SPONSORS:

Funding was generously provided by the Arts and Technology Program at the University of Texas at Dallas (UTD), Leonardo/OLATS studiolabproject.eu, the College of Arts, Media and Design at Northeastern University (NU), the Center for Complex Network Research at NU, DTU Informatics Technical University of Denmark, and the Leonardo Society for the Arts, Sciences and Technology. Without the generous support from our sponsors this event would not have been free and open to all participants.