Biography : Rob is working on a new book about art on the Moon -Mirroring the Moon, commissioned by Intellect Books, University of Chicago Press. He was the first curator to experience zero gravity at Star City in Moscow in 1999. His exhibitions include Republic Of The Moon with The Arts Catalyst, Aerosolar/Space Without Rockets and Aerocene with Tomas Saraceno in Texas and New Mexico; Exoplanet Lot at Maison des Arts Georges et Claude Pompidou, France; and No Such Thing As Gravity shown at FACT, Liverpool in 2016 and the National Taiwan Museum of Fine Art in 2017. His publications include Self Etc., Intellect Live (2018) and Manifesto for The Republic Of The Moon, Arts Catalyst, 2014. He writes for Art Monthly, Makery.info France and Artlink Australia.

Extract from Manifesto For A Republic Of The Moon
Abstract : Wherever they are in the world, when humans and animals look up, they see the silvery disc of the Moon, in one phase or another, whether imperceptible or not. It is nearly five decades since humans walked on the Moon and we are surrounded by satellites and machines heading for Mars and other planets. However, the nearest humans can get into space is to perch on the International Space Station. Sooner or later, we are going back to the Moon, whether to mine it, to rehearse for a Mars mission or to live there. But how will human activity there reflect what has happened on Earth since the last Moon mission, to respond?to the diversity and political and social changes that have happened since?.In a provocative pre-emption of the future, a group of artists have already declared a Republic of the Moon, here on Earth, with diverse objectives. They range from Liliane Lijn's desire to project the word 'SHE' on the Moon, to Agnes Meyer-Brandis breeding and training a new type of astronaut moon goose. Moon Vehicle activates the reactions of school children to India's first lunar mission and Russia's Leonid Tishkov carries his own private, personal moon around with him. For now, the Republic of the Moon exists in the mind. Every imaginative artist comes with built-in world-building equipment. This is a kind of controlled solipsism - the notion that one is at the centre stage of a lifelong drama or movie that is being put on by actors for one's own benefit. Out of hand this can be dangerous and unbearable for others, but some artists can utilise and benefit from this effect. So, like everything in this messy universe, if there is a Republic of the Moon, or if artists or moon-geese colonise the Moon, it will be done out of serendipity, or simply by accident. Towards a Republic of the Moon!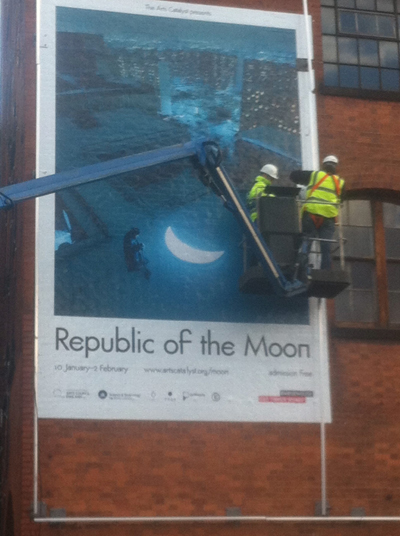 Building the Republic

References
- http://roblafrenais.info/current-projects/
- 67th International Astronautical Congress 2016
SPACE EDUCATION AND OUTREACH SYMPOSIUM (E1) Space Culture -Public Engagement in Space through Culture (9) Author: Dr. Rob La Frenais?Bournemouth University, United Kingdom, Paper ID: 34859 oral "Space without Rockets: Cultural and Human Factors Approaches to Sustainable Space Travel."