Biography : Regina de Miguel works as an artist through critical and interdisciplinary agency in processes and convergences focused on producing hybrid objects and knowledge.
She has set up solo exhibitions in: I´m part of this fractured frontier, C3A Córdoba, 2018; Aura Nera, Santa Mónica, Barcelona, 2016; Ansible, Maisterravalbuena Gallery, Madrid, 2015; All knowledge is enveloped in darkness, Kunsthalle Sao Paulo, 2014; Nouvelle Science Vague Fiction, General Public, Berlin 2011, El aire aún no respirado, MUSAC, León 2008.
She has also exhibited in group shows as: Cosmos. Film Programme. Tentacles Gallery, Bangkok, 2019; .Celda Unidad, Cultural Institute of León, Guanajuato, México, 2018; Capitalo, Chthulu, and a Much Hotter Compost Pile at Kunstraum Kreuzberg/Bethanien, Berlin, 2018; Technosphärenklänge #5: Performance with Lucrecia Dalt. Haus der Kulturen der Welt, Berlin, 2018; Adverbios Temporales, Centro Centro, Madrid, 2018.

Aura Nera
Abstract : Aura Nera recreates the self-sufficient semiosphere of science, a cultural "stratum" condensed with symbols and meanings that have an archetypal scenario: the laboratory. Nevertheless, in this case, it functions as a laboratory of artificial cultures, free of biological manifestations sensitive to human control. A fictional scenario that becomes a bank of samples, a collection of geological, herbal prototypes or immaculate rooms of natural history museums, and other controlled environments that the artist, Regina de Miguel, visited in contexts like the Centro de Astrobiología associated with NASA in Madrid, the laboratories for in vitro cultures of endangered species of the Botanical Gardens in Sao Paulo, the Vulcanology Institute at the Universidad de Barcelona, the Natural Sciences Museum in Santiago de Chile and the Seed Bank of the city of Vicuña, also in Chile.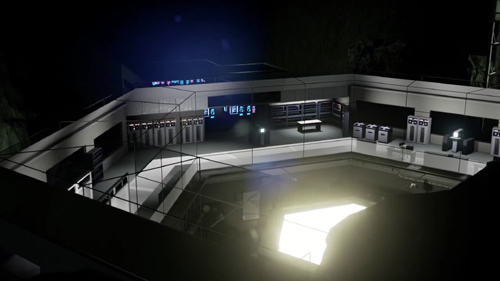 screenshot from "A Story Never Told from Below", 2015, Vídeo HD et 3D, 01:09:38.

References
Llurba Ana, Post-humanism and Utopia in Aura Nera by Regina de Miguel
https://a-desk.org/en/magazine/post-humanism-and-utopia-in-aura/
A Brief History of the Future
http://esnorquel.es/descargas/ABriefHistoryoftheFuture.pdf
Pereira Godofredo (Ed.), Savage Objects, Forensic Archictecture
https://www.forensic-architecture.org/publication/savage-objects/